First of all, I apologise for ignoring my blog for over a month!  In my defence, I've had an enormous amount of coursework to deal with, but it's all handed in now and I'm (practically) a lady of leisure.  I thought I'd hop back into blogging with the Taylor Swift Book Tag.
Each Taylor Swift song correlates to a question about books that I must answer.  Taylor Swift and books, what's not to like?
---
1. We Are Never Ever Getting Back Together
(Pick a book or series that you were pretty sure you were in love with, but then wanted to break up with.)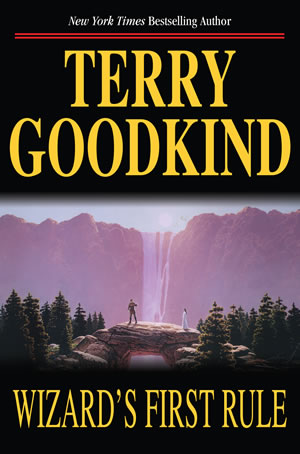 The Sword of Truth Series by Terry Goodkind
I thought these were amazing.  I still think the first few are excellent, but as I kept reading the stories became stale and repetitive and the characters infuriating (either in their utter uselessness, or their total perfection).  I gave up at The Pillars of Creation.  I'm sure I'll finish the series someday, but for now I can safely call us broken up.
2. Red
(Pick a book with a RED cover.)
The Classic Collection by H.G. Wells
You can't tell from the image, but this book is a brick.  You also can't tell that all the text and imagery on the front is shiny, gold and beautiful.  I got this specifically for my Science Fiction and Fantasy class last year: it has all Wells's most famous works and is stunningly illustrated as a bonus.  Definitely worth having if you like science fiction.
3. The Best Day
(Pick a book that makes you feel nostalgic.)
Animal Ark Hauntings: Cat in the Crypt by Lucy Daniels
I loved ghost stories as a child, and I also read Animal Ark to death.  I mostly borrowed them from the library, though – I think Cat in the Crypt is the only one I still have on my bookshelf.  As a side-note, I felt slightly betrayed when I recently found out Lucy Daniels is not a real person, but a team of writers.  Oops.
4. Love Story
(Pick a book with forbidden love.)
Ladyhawke by Joan D. Vinge
I think people mostly remember the cheesy 80's movie of Ladyhawke, but the book was excellent.  The concept of the cursed lovers is brilliant and I thoroughly enjoyed the book.  If, by some miracle, you haven't already heard the story, I recommend it.  You might actually find the twist surprising (I didn't, sadly).
5. I Knew You Were Trouble
(Pick a book with a bad character you couldn't help but love.)
Hogfather by Terry Pratchett
Mr Teatime (teh-ah-time-eh!) in Hogfather was deliciously creepy, and I loved that we could never really tell if there was something supernatural about him – he was able to gain purchase on 'empty air' and other character speculated that his glass eye was magic.  Plus check out that beautiful new cover!  I neeeeeed it.
6. Innocent
(Pick a book that someone ruined the ending for.)
Do Androids Dream of Electric Sheep? by Philip K. Dick
This was a difficult question; I'm fairly good at avoiding spoilers.  I considered a John Green book, but I haven't actually read any John Green so I doubt it counts.  I spoiled myself and read the Wikipedia page for Do Androids Dream of Electric Sheep? long before I read the book.  Wikipedia didn't do it justice – this is one of my favourite books now.
7. Everything Has Changed
(Pick a character from a book who goes through extensive character development.)
Sam Vimes in the Discworld Series by Terry Pratchett
I didn't like Guards!  Guards! when I first read it, but then I picked up Night Watch and was confused when I loved it.  Now I've read all the books about Sam Vimes in order, I understand.  He goes from a hopeless, depressed and useless drunkard to a cunning and seriously powerful character by Thud!
8. You Belong With Me
(Pick your most anticipated book release.)
Winter by Marissa Meyer
I cannot wait to find out what happens at the end of Marissa Meyer's The Lunar Chronicles.  I sped through the last three books – great characters and excellent, fast-moving plot in a cyberpunk world on the edge of war.  I borrowed the last three from the library, but when Winter is released, I plan to seek out a box set and buy the quartet.
9. Forever and Always
(Pick your favorite book couple.)
The Princess Bride by William Goldman
'As you wish!'  Of course, Buttercup and Wesley are my favourite book couple.  If I remember correctly, the book is just as funny as the film, and adds nicely to the backstories of some of the side characters.  It does hint at a sadder ending than the film, however, so be wary of that if you prefer happily-ever-after.
10. Come Back, Be Here
(Pick the book you would least like to lend out, for fear of missing it too much.)
The Fantasy Worlds of Peter Beagle by Peter Beagle
The Last Unicorn is one of my favourites.  Every line of every story in the collection is like poetry; it's just beautiful to read.  My mum found a battered copy with the above jacket in a charity shop – I've never seen it anywhere else.  I'm loathe to lend it out, because I don't know if I'd ever find a replacement.
11. Teardrops On My Guitar
(Pick a book that made you cry a lot.)
The Great Gatsby by F. Scott Fitzgerald
I rarely cry, and I was surprised this book got tears out of me.  I expected to hate it.  The characters are awful people, greedy and selfish.  And yet, that last page managed to provoke a few tears: 'to-morrow we will run faster, stretch out our arms farther… And one fine morning ——'
12. Shake It Off
(Pick a book that you love so much, you just shake off the haters.)
Twilight by Stephanie Meyer
Yes, cue the sighs and groans of despair.  My reasons for liking Twilight could take up an entire blog post (and they probably will at some point, when I'm feeling brave), but suffice to say that it was a fun little love story when I was fourteen, and I mostly still see it that way now.  Haters to the left.
That's all from me, folks!  My next post should be sooner, now I don't have mountains of coursework to keep me busy.  Just one cracking great dissertation to do!  Bye!